The 3 Horizons of Innovation
The different roads to innovation are explained by the framework of the Three Horizons of Innovation.
Horizon 1 and Horizon 2 mostly serve as an 'innovation of the current or the past'.
These types of innovation are essential in achieving continuous future innovation, Horizon 3.
The Three Horizons are as following:

Business as usual with focus on improving efficiency. Its goal is to optimize existing products or services. We call this Sustaining Innovation. The product development processes used for this type of innovation are: Lean Startup, Waterfall and Agile.

Disrupting existing markets.
Disruptive Innovation disrupts and subverts existing markets by bringing new technology or processes to the marketplace. It creates new markets and values, as opposed to Sustaining Innovation. A good example would be the iPhone, that disrupted the mobile phone industry. Work methods are: Design Thinking and Lean Startup.

Aspirations for the future. The third horizon is about Transformative Innovation, where the focus lies on a fundamental shift towards a viable new dominant system. For this type of innovation, we use the Agile and Lean Startup methods.
DAY 1
Digital Revolution

Importance of Innovation

Rise of Startups

Lean Startup Methodology

Customer Development

Customer Discovery

Customer Jobs

Value Proposition Design

Introduction Experiment Design

Build experiment based on landing page

Target Customer via Facebook ads

Put real life experiment online
DAY 2
Business Model Canvas

Why, What & How Experiment Design

Identify hypotheses

Identify riskiest assumptions

Experiment Design examples

Analyse results experiment (data)

Validate hypotheses
Analyse and reintegrate learnings
Introduction of Pivots
Prototypes / Minimum Viable Products
Redefine Personas & Customer Jobs
Tools for quick low budget experiments
Startup Team: Agile/SCRUM/WoW (light)
EXTRA INCLUDED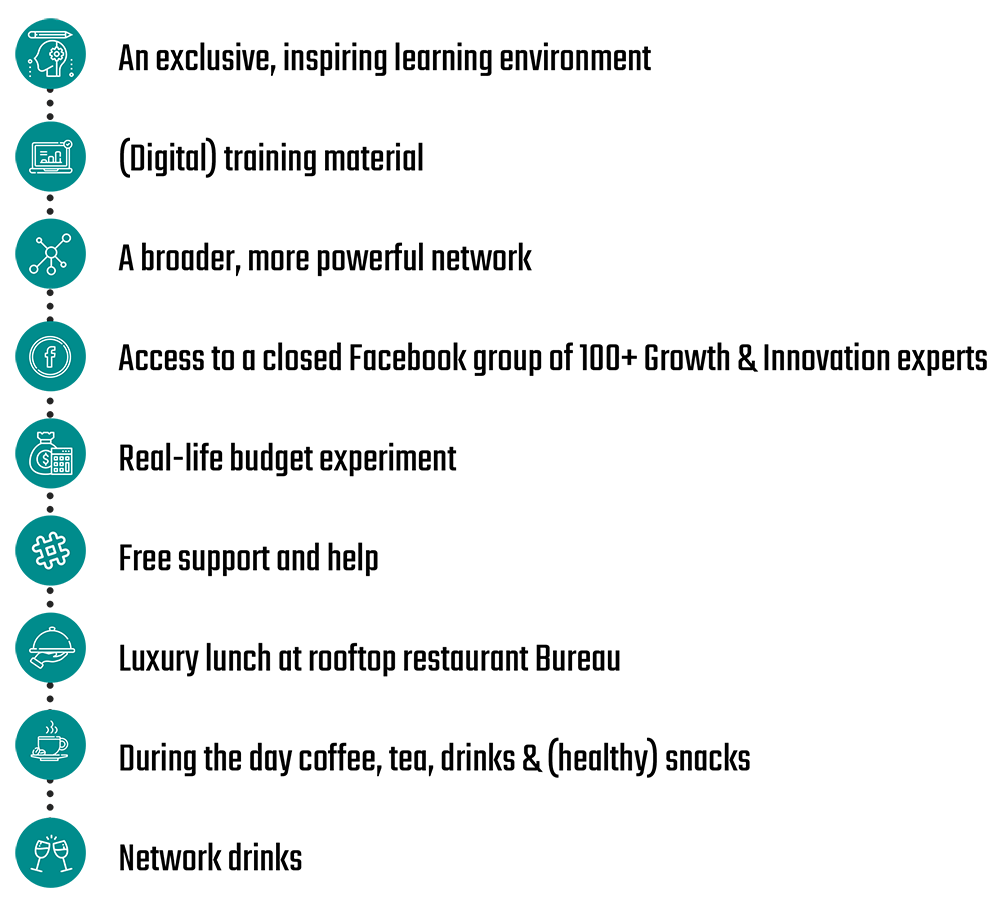 CERTIFICATE
After completing the bootcamp training, we send all participants a certified certificate at the office, offered by Startupbootcamp, Innoleaps and The Talent Institute. This document will be personally signed by Roderik Hageman, Co-Founder of The Talent Institute.
CURIOUS OR QUESTIONS YET?